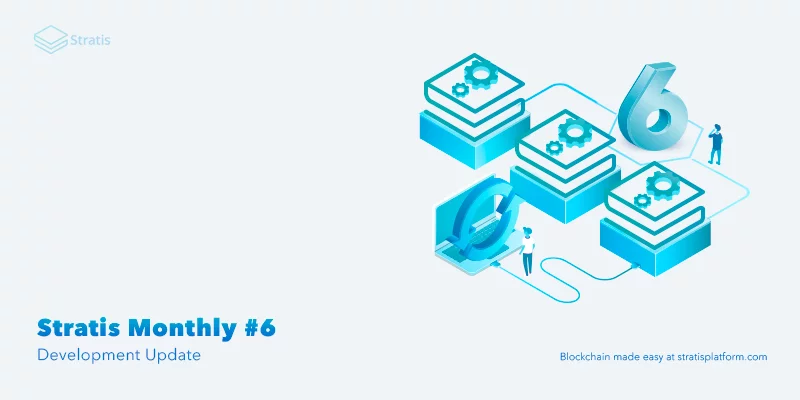 A total of 79 commits were made during the month of July, this encompassed 388 file changes and 5,613 additional lines of code
July saw the successful release of the Cirrus Sidechain, secured by the Cirrus Sidechain Masternodes. By performing rigorous testing within our Stratis Coherence Suite, we were able to ensure a smooth release. This shows the benefit of Stratis Coherence Suite to cater for full end-to-end testing within a short time frame, enabling developers to have complete confidence in the public release of a product.
Shortly after the release of the Cirrus Sidechain, the first smart contract was executed on-chain – an ERC-20 equivalent named SRC-20 which allows anyone to issue their own token with just a few clicks within the Cirrus Core wallet. This landmark moment was the first time a smart contract has ever been executed on a platform built entirely from the ground up in native C# on Microsoft's .NET framework.
We now look forward to releasing Cirrus Core 2.0 in the coming weeks, bringing one-click token issuance and full token management allowing you to manage issued tokens with ease.
A total of 79 commits were made during the month of July, this encompassed 388 file changes and 5,613 additional lines of code. A summary of the key developments can be found below.
Enhancements to P2P Feature

Improvements to Mempool

Cirrus Network changes

Optimizations to Federation Wallet

Improved P2P error handling

Development of account-based wallet model

Updates to Token Support within Cirrus Core
Development of the Stratis implementation of SegWit has been proceeding smoothly. Both mining and staking of SegWit transactions and blocks has been tested, with these test scenarios becoming a permanent part of the integration test suite. Additional test coverage has been added to verify interoperability of SegWit-capable nodes with nodes running older software on the same network. This will help to ensure a seamless upgrade in future.
Several improvements have been made to the Stratis Full Node's mempool implementation, enhancing its support for SegWit transactions and validation of all transaction types in general. Regression testing will soon begin, after which SegWit functionality can begin to be activated on the Stratis mainchain.
We are also pleased to announce the Stratis Academy is now open-source, allowing anyone to contribute and suggest changes via GitHub.
A new article has been added. detailing the Smart Contract deployment process on the Cirrus Sidechain.
https://academy.stratisplatform.com/SmartContracts/DeployingSmartContract/deploying-smart-contract-on-cirrus.html
In light of the Stratis Academy becoming open-source, we are excited to announce we will award a total of 1000 STRAT to the top three contributors in August. The prize fund will be split into 500 STRAT/300 STRAT/200 STRAT to the first, second and third winners, based upon contributions made.

Stratis appoints Luther Pendragon
Stratis has appointed Luther Pendragon to lead its corporate communications strategy. Luther Pendragon is a communications agency with a 25-year track record of advising clients around the globe. It will advise Stratis on its communications and marketing activities as we target new enterprise customers and further build our developer base.
Uganda backs Stratis partner MediConnect in fight against fake drugs
The Ugandan government has signalled its support for MediConnect's blockchain solution, which runs on the Stratis platform, to tackle the country's counterfeit medicines problem.
It follows a meeting in July in Kampala between MediConnect, the President of Uganda, Yoweri Museveni, and other high-level government officials.
A delegation including Dexter Blackstock, CEO of MediConnect, explained how it is developing a blockchain solution to track and trace drugs all the way through the supply chain. According to Ugandan National Drug Authority, 10 per cent of drugs prescribed in the country have counterfeit copies sold on the market. The meeting attracted media coverage in the UK and Africa, examples of which can be seen at: Cointelegraph-Uganda to Deploy MediConnect's Blockchain Platform for Tracing Fake Drugs; and Nottingham Post-Dexter Blackstock gets support to tackle Uganda's fake drug problem.
Dexter Blackstock, CEO of MediConnect, commented: "We see this as an important opportunity for MediConnect to form part of Uganda's national infrastructure and protect its citizens by ensuring all drugs in circulation are authentic and safe."
Stratis contributes to teQatlas research into blockchain benefits
Stratis was pleased to contribute to research by Swiss-based market intelligence provider teQatlas. We took part in their recently published report "Emerging Technologies for SMEs: Blockchain, AI and IOT, Use Cases, Opportunities and Challenges".
The full report is behind their paywall, but our CEO and founder, Chris Trew, is named-checked as a contributor here. Stratis also features in the teQatlas Products & Services directory on their website here.
One of the issues highlighted by the report is how SMEs mistakenly think emerging technologies such as blockchain are for large enterprises. The study shows how firms can use them to optimize their business processes, cut costs and outperform the competition.
Leading university ETH Zurich puts focus on Stratis in technology study
Stratis has taken part in a study on the inner structure of distributed ledger technology by prestigious Swiss technical university ETH Zurich.
It is part of a European research project called FuturICT2.0. The project is looking at ways of harnessing innovative technologies to tackle threats such as resource shortages, climate change and economic dislocation. It brings together expertise in cutting-edge areas such as big data, AI, and blockchain.
One aim of the research is to devise new financial incentive systems to foster sustainable community behaviour and Stratis was pleased to be one of first projects they chose to look at.
---