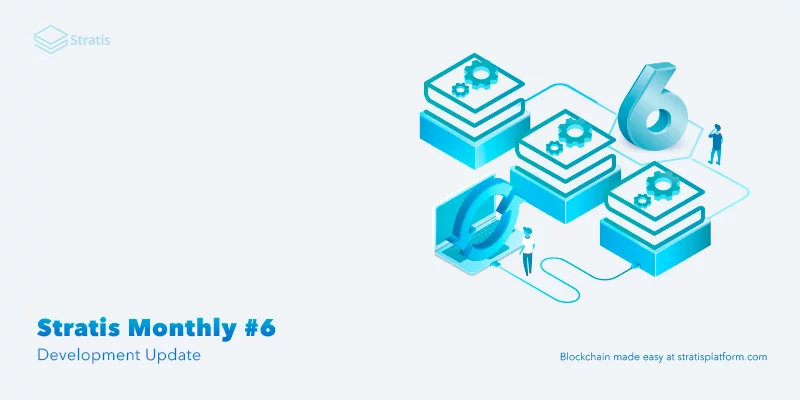 Im Juli wurden insgesamt 79 Softwareänderungen durchgeführt.
Dies umfasste 388 Dateiänderungen und 5.613 zusätzliche Codezeilen.
Im Juli erschien die Cirrus Sidechain, die durch die Cirrus Sidechain Masternodes gesichert wurde. 
Durch strenge Tests in unserer Stratis Coherence Suite konnten wir eine reibungslose Freigabe sicherstellen. Dies zeigt den Vorteil der Stratis Coherence Suite für vollständige End-to-End-Tests innerhalb eines kurzen Zeitraums, sodass Entwickler volles Vertrauen in die Veröffentlichung eines Produkts haben können.
Kurz nach der Veröffentlichung der Cirrus Sidechain wurde der erste Smart Contract direkt in der Kette ausgeführt - ein ERC-20-Äquivalent mit dem Namen SRC-20, mit dem jeder mit nur wenigen Klicks sein eigenes Token in der Cirrus Core-Brieftasche ausstellen kann. Dieser Meilenstein war das erste Mal, dass ein intelligenter Vertrag auf einer Plattform ausgeführt wurde, die vollständig von Grund auf in nativem C # auf dem .NET-Framework von Microsoft erstellt wurde.
Wir freuen uns jetzt darauf, Cirrus Core 2.0 in den kommenden Wochen herauszubringen und die
Token-Ausgabe mit einem Klick sowie die vollständige Token-Verwaltung zu ermöglichen.
Somit können Sie die ausgegebene Token mühelos verwalten.
Im Juli wurden insgesamt 79 Softwareänderungen durchgeführt.
Dies umfasste 388 Dateiänderungen und 5.613 zusätzliche Codezeilen.
Eine Zusammenfassung der wichtigsten Entwicklungen wird hier aufgelistet:
Verbesserungen der P2P-Funktion

Verbesserungen am Mempool

Änderungen im Cirrus-Netzwerk

Optimierungen an der Federation Brieftasche

Verbesserte P2P-Fehlerbehandlung

Entwicklung eines kontobasierten Brieftaschenmodelles

Aktualisierungen der Token-Unterstützung in Cirrus Core
Die Entwicklung der Stratis-Implementierung von SegWit verlief reibungslos. Es wurde sowohl das Mining als auch das Abstecken von SegWit-Transaktionen und -Blöcken getestet, wobei diese Testszenarien ein fester Bestandteil der Integrationstestsuite werden. Es wurde eine zusätzliche Testabdeckung hinzugefügt, um die Interoperabilität von SegWit-fähigen Knoten mit anderen Knoten zu überprüfen, auf denen eine ältere Software im selben Netzwerk ausgeführt wird. Dies wird dazu beitragen, zukünftig ein nahtloses Upgrade zu gewährleisten.
An der Mempool-Implementierung der Stratis Full Node wurden mehrere Verbesserungen vorgenommen, die die Unterstützung von SegWit-Transaktionen und die Validierung aller Transaktionstypen im Allgemeinen verbessern. Die Regressionstests werden bald beginnen. Danach kann die SegWit-Funktionalität in der Stratis-Hauptkette aktiviert werden.
Wir freuen uns auch, Ihnen mitteilen zu können, dass die Stratis Akademie jetzt Open Source ist und jeder über GitHub Beiträge leisten und Änderungen vorschlagen kann.
Außerdem wurde ein neuer Artikel hinzugefügt:
"Ausführliche Informationen zum Bereitstellungsprozess von Smart Contracts in der Cirrus Sidechain."
https://academy.stratisplatform.com/SmartContracts/DeployingSmartContract/deploying-smart-contract-on-cirrus.html
Aufgrund dessen, dass die Stratis Akademie Open Source wurde, freuen wir uns Ihnen mitteilen zu können, dass wir im August insgesamt 1000 STRAT an die drei besten Autoren vergeben werden. Das Preisgeld wird auf der Grundlage der geleisteten Beiträge in 500 STRAT / 300 STRAT / 200 STRAT für den ersten, zweiten und dritten Gewinner aufgeteilt.

Stratis beauftragt Luther Pendragon
Stratis hat Luther Pendragon mit der Leitung seiner Unternehmenskommunikationsstrategie beauftragt. Luther Pendragon ist eine Kommunikationsagentur, die seit 25 Jahren Kunden auf der ganzen Welt berät. Sie wird Stratis bei ihren Kommunikations- und Marketingaktivitäten beraten, wenn wir gezielt neue Unternehmenskunden ansprechen und unsere Entwicklerbasis weiter ausbauen.
Uganda unterstützt Stratis-Partner MediConnect im Kampf gegen gefälschte Arzneimitteln
Die ugandische Regierung hat ihre Unterstützung für die Blockchain-Lösung von MediConnect angekündigt, um das Problem des Landes mit gefälschten Arzneimitteln anzugehen.
Im Juli gab es ein Treffen in Kampala zwischen MediConnect, dem Präsidenten von Uganda, Yoweri Museveni, und anderen hochrangigen Regierungsbeamten.
Eine Delegation, zu der auch Dexter Blackstock, CEO von MediConnect gehört, erläuterte wie eine Blockchain-Lösung entwickelt wird, mit der Medikamente über die gesamte Lieferkette hinweg verfolgt und zurückverfolgt werden können. Nach Angaben der ugandischen Arzneimittelbehörde sind 10 Prozent der im Land verschriebenen Arzneimittel gefälschte Kopien, die auf dem Markt verkauft werden. Das Treffen stieß auf Medienberichterstattungen in Großbritannien und Afrika. Beispiele dafür finden Sie unter: Cointelegraph-Uganda to Deploy MediConnect's Blockchain Platform for Tracing Fake Drugs und Nottingham Post-Dexter Blackstock gets support to tackle Uganda's fake drug problem.
Dexter Blackstock, CEO von MediConnect, kommentierte: "Wir sehen dies als wichtige Gelegenheit für MediConnect, einen Teil der nationalen Infrastruktur Ugandas zu bilden und seine Bürger zu schützen, indem sichergestellt wird, dass alle in Umlauf befindlichen Medikamente authentisch und sicher sind."
Stratis leistet einen Beitrag zur teQatlas-Forschung
zu Blockchain-Vorteilen
Stratis war erfreut, einen Beitrag zur Forschung des in der Schweiz ansässigen Market Intelligence-Anbieters teQatlas zu leisten. Wir haben an ihrem kürzlich veröffentlichten Bericht "Neue Technologien für KMU: Blockchain, AI und IOT, Anwendungsfälle, Chancen und Herausforderungen" teilgenommen.
Der vollständige Bericht befindet sich im kostenpflichtigen Bereich, aber unser CEO und Gründer Chris Trew wird hier als Mitwirkender namentlich genannt. Stratis ist hier auch im Verzeichnis teQatlas Produkte & Services auf Ihrer Website zu finden.
In dem Bericht wird unter anderem hervorgehoben, wie KMU irrtümlicherweise neue Technologien wie Blockchain für große Unternehmen halten. Die Studie zeigt, wie Unternehmen damit ihre Geschäftsprozesse optimieren, Kosten senken und den Wettbewerb übertreffen können.
Führende Universität der ETH Zürich setzt im Technologiestudium auf Stratis
Stratis hat an einer Studie der renommierten Schweizerischen Technischen Universität ETH Zürich über die innere Struktur der Distributed Ledger Technology teilgenommen.
Es ist Teil eines europäischen Forschungsprojekts namens FuturICT2.0. Das Projekt untersucht Möglichkeiten zur Nutzung innovativer Technologien, um Bedrohungen wie Ressourcenknappheit, Klimawandel und wirtschaftliche Verwerfungen zu begegnen. Es vereint Know-how in den neuesten Bereichen wie Big Data, AI und Blockchain.
Ein Ziel der Forschung ist es, neue finanzielle Anreizsysteme zu entwickeln, um ein nachhaltiges Gemeinschaftsverhalten zu fördern, und Stratis war erfreut, eines der ersten Projekte zu sein, die sie in Betracht zogen.
---